The Corncrake LIFE project will work with local communities, landowners and farmers across eight project areas. These project areas are focused around designated Special Protection areas for Corncrake but also include non-designated lands which regularly host Corncrakes. When combined, these areas maintain approximately 85% of Ireland Corncrake population. The project refers to these areas as 'Corncrake Catchments'.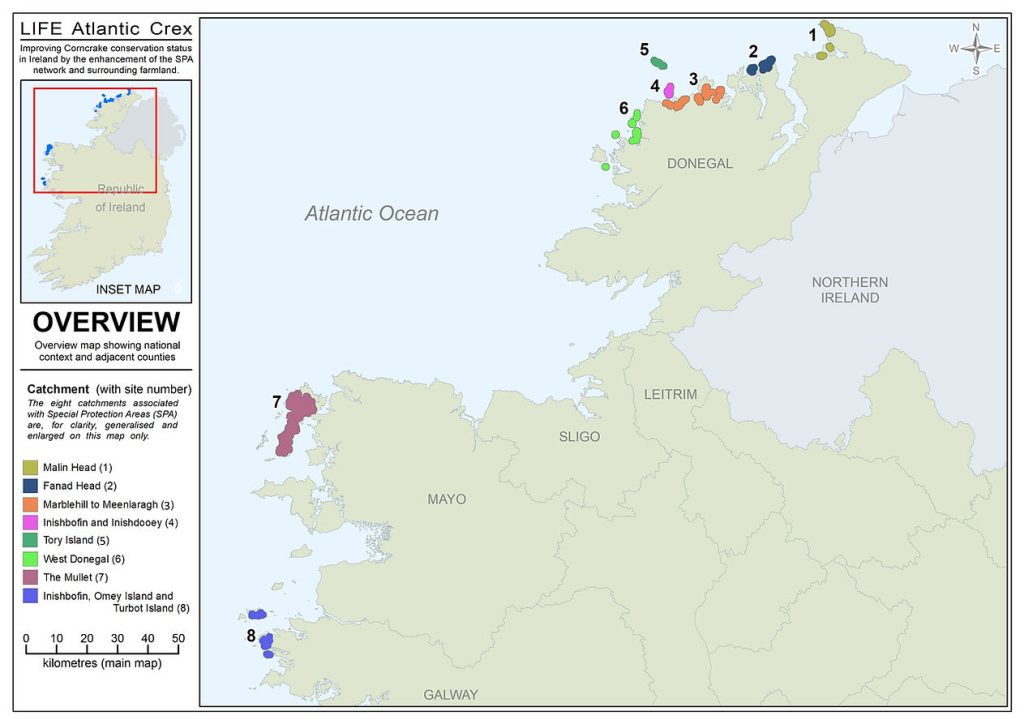 The project operational areas are:
Malin Head Catchment
Fanad Head Catchment
Meenlaragh to Marblehill Catchment
Inishbofin & Inishdooey Catchment
Tory Island Catchment
West Donegal Catchment
The Mullet Catchment
Inishbofin, Omey Island and Turbot Island Catchment
Each area is unique in terms of its landscape, land use and geography. The coastal distribution of the remaining Corncrake population means that many of the project areas are some of the most spectacular places in Ireland. The range of the Corncrake in Ireland is also mirrored in many ways with the distribution of the Irish language, especially in the west and north-west. Many off-shore islands now pay host to important Corncrake numbers. Inhabited off-shore islands like Toraigh in Co. Donegal and Inishbofin in Co. Galway remain a stronghold for the species. Other uninhabited islands are also important for the Corncake. While these islands provide safe refuge from predators, a reduction in land management and the subsequent loss of species rich grasslands threatens the bird's future.
While the indicative maps highlight the projects main operational areas, other areas within the broader catchments can be considered for participation in the project. The project team will make decisions to include areas based on presence of the Corncrake, habitat suitability and connectivity with existing management sites.