Malin Head (Cionn Mhálanna) lies on the Inishowen Peninsula in County Donegal, at the most northerly tip of the island of Ireland. It is the start (or end, depending on your point of view) of the Wild Atlantic Way and has long been renowned for its epic coastal scenery, thriving birdlife and historical curiosities. The area around Malin Head is peppered with many local place names of Norse and Irish origin. There is a weather station on the head, which is one of 22 such stations whose reports are broadcast as part of the BBC Shipping Forecast. A tower built in 1805 is situated on Altnadarrow also known locally as the Tower hill.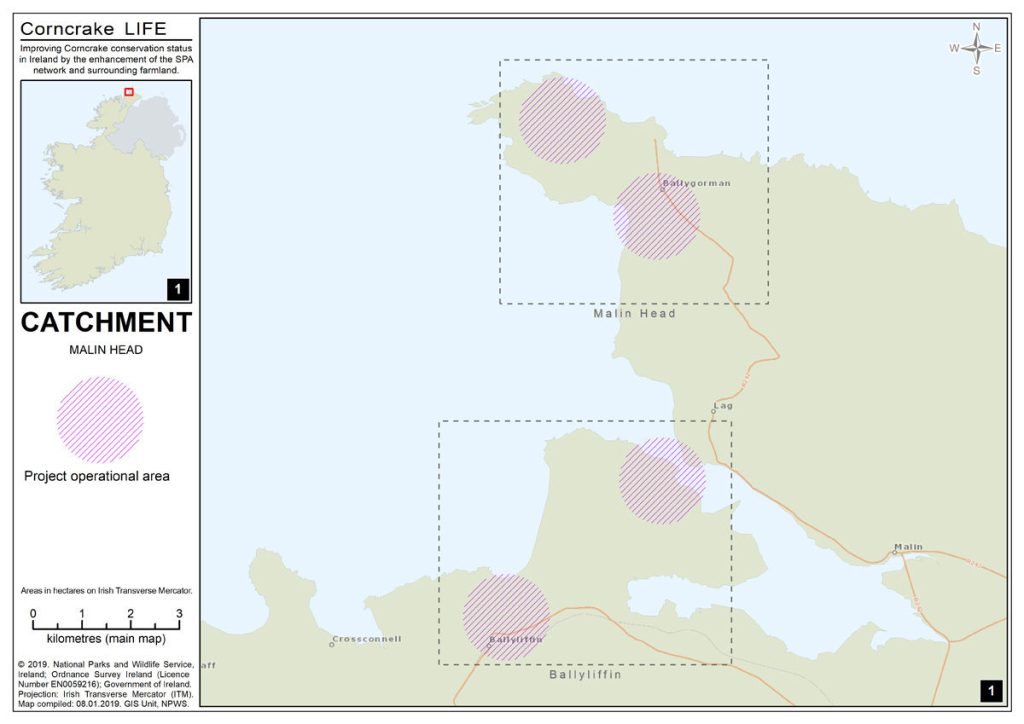 Wildlife
The Corncrake population in Malin Head has increased slightly in recent years. The birds are most frequently heard around Ballyhillin and Gortnamullan. The sea winds and exposed nature of Malin Head pose a challenge to creating cover for the Corncrakes but with the help and insight of local landowners we hope to develop cover types that meet the birds' needs. Malin Head is an area of great scenic beauty and discover its historical, scientific and ecological importance. It is an ideal vantage point from which to view the autumnal movements of seabirds such as gannets, shearwaters, skuas, auks and others, on their southward migration flights. Rarities have included Black-browed Albatross, Feas Petrel and many other rare seabirds have been recorded here. This is also a good vantage point for viewing Basking sharks and the resident pod of Bottle-nosed Dolphins.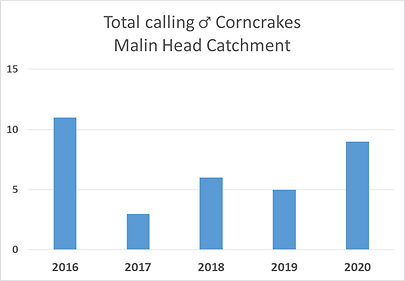 Activities
Malin Head is renowned for its dramatic landscape and beautiful beaches. See some of the largest sand dunes in Europe when you approach Malin Head from the coastal road, along the north of Trawbreaga Bay at Lagg. Enjoy a walk, go fishing, swim in the shimmering water, take some incredible photos or study the unique rock formations.
A circuit of Malin Head brings you around the coast to Banba's Crown where a derelict building known as The Tower, was once used as a signal station connecting America and Europe. From Banba's Crown, view Inishtrahull Island and its majestic lighthouse to the north east. Further east on a clear day, see if you can spot the Scottish Hills.
Hike along the cliffs to Hell's Hole, a remarkable subterranean cavern into which the tide rushes with great force and nearby, find Devil's Bridge, a picturesque natural arch.
History
A great place to start exploring Malin Head is the very tip of the headland where you'll find Banba's Crown (named after a mythical goddess of Ireland). "The Tower", as it's known locally, was built by the British Admiralty in 1805 as part of a string of buildings right around the Irish coast to guard against a possible French invasion.
More modest are the nearby World War II lookout posts. Malin Head was one of 83 coastal locations used to provide a picture of wartime events along the Irish coastline. The coast watchers here had plenty to report in the early stages of the war as German U-boats attacked convoys in the vicinity.
For more Maps and Tourist Information visit: Malin Head Community Tourist Information