Catchment Area: 4, includes Site Code 004149
Wildlife
The Marblehill to Meenlaragh Catchment has historically hosted a good population of Corncrakes but the numbers have declined in recent years. For bird entusiats, the coatsline is home to a huge range of protected and rare species including; Fulmar, Cormorant Shag (Phalacrocorax aristotelis) [A018] Barnacle Goose (Branta leucopsis) [A045] Peregrine (Falco peregrinus) [A103] Kittiwake (Rissa tridactyla) [A188] Guillemot Razorbill (Alca torda) [A200] Chough (Pyrrhocorax pyrrhocorax) [A346] Greenland White-fronted Goose (Anser albifrons flavirostris) [A395]
This catchment (Marblehill to Meelaragh) supports nationally important numbers of Corncrake annually (10 calling males, 2014 – 2018 survey mean). It is also one of the few remaining mainland sites supporting Corncrake in the Co. Donegal and often has good numbers of calling males.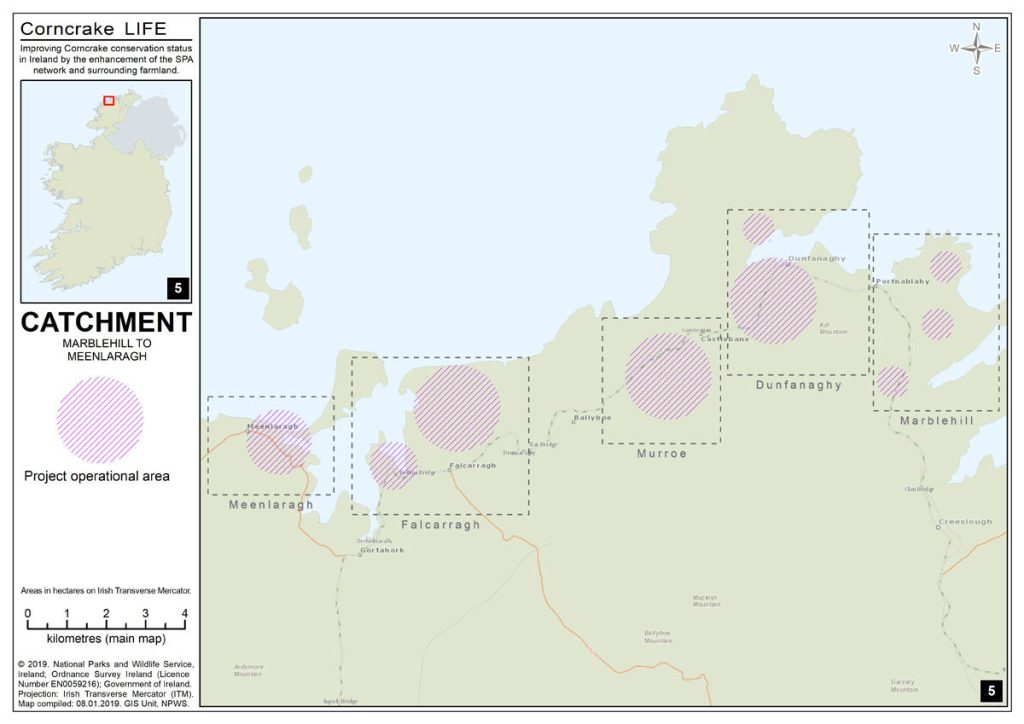 The Marblehill to Meenlaragh catchment is distributed over several townlands along the coastline of northwest Co. Donegal, including the SPA areas in Mín Larach, Machaire Rabhartaigh , Cill Ulta, Baile An Easa, Droim Na Tine and Baile Chonaill.
The Marblehill to Meenlaragh Catchment has historically hosted a good population of Corncrakes but the numbers have declined in recent years. For bird entusiats, the coatsline is home to a huge range of protected and rare species including; Fulmar, Cormorant Shag (Phalacrocorax aristotelis) [A018] Barnacle Goose (Branta leucopsis) [A045] Peregrine (Falco peregrinus) [A103] Kittiwake (Rissa tridactyla) [A188] Guillemot Razorbill (Alca torda) [A200] Chough (Pyrrhocorax pyrrhocorax) [A346] Greenland White-fronted Goose (Anser albifrons flavirostris) [A395]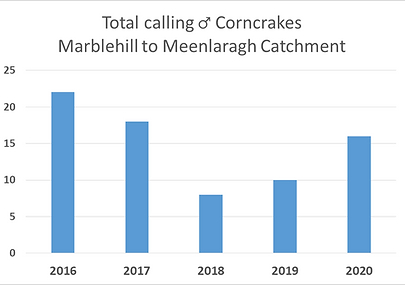 The old Gaeltacht Parish of Cloich Cheann Fhaola, which is now made-up of the parishes of Gort A' Choirce and An Fál Carrach, lies in the North-West corner of Ireland, running from Bloody Foreland, north as far as the Rye river, heading toward Dunfanaghy. This coastal landscape is classified as an Especially High Scenic Amenity Area within the Donegal County Development Plan 2018-2024, as it still retains its traditional rural characteristics. It has population of approximately 4000.
​Land use within the catchment is dominated by agricultural activity. Economic activity in the area is predominantly centred on tourism and the hospitality industry. The Wild Atlantic Way has resulted in increased visitor numbers. Particularly following Donegal and Machaire Rabhartaigh being voted number one in The Cool List: 17 for 2017 | National Geographic. Other local attractions include Ray Church, Drumnatinney Beach, and An tSean Bhearic visitor centre.
​Falcarragh (An Fál Carrach), is a Gaeltacht region in Donegal, is a market town in the parish of Cloughaneely, which is located in Northwest Donegal on the N56 route, approximately 45km from Letterkenny. The area surrounding Falcarragh is one of amazing natural beauty, with the Derryveagh Mountains to one side and the beautiful unspoilt beaches of Drumnatinney, Ballyness Bay and Magheroarty on the other. The islands of Tory and Innisboffin lie just off the coast. This varied landscape is ideal for outdoor activity enthusiasts.
Have a look at the Falcarragh Visitor Centre Activities page for some ideas on things to do in this scenic corner of Donegal.
While Dunfanaghy boasts surfing, and horseriding, the workhouse museum along with the stunningly beautiful Ards Forest Park and Horn Head Loop. Nearby Glenveagh National Park is a hugely popular visitor attraction.
Dunfanaghy is a commercial hub in north-west Donegal. It is a popular tourist destination with numerous amenities, including a golf course, an interpretive centre, and a surf school. Farming and, to a lesser degree, fishing, are also important activities in the catchment area.
​For more Maps and Tourist Information visit: www.wildatlanticcamp.ie
​​For more information on the Special Protection Area within this catchment, visit the National Parks and Wildlife Services website https://www.npws.ie/protected-sites/spa/004149